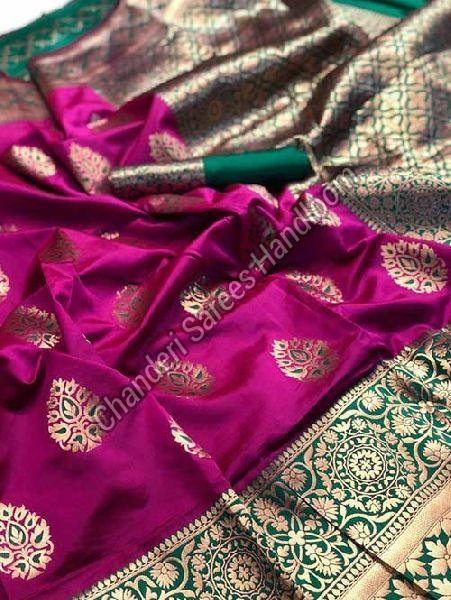 In India, a wedding means a college of Banarasi sarees, be it the bride or family relatives. Banarasi silk sarees have been preferred by all for a very long time. These are available in various designs and fabric. One of the most picked silk sarees is the Katan silk sarees.
Here are some salient features of this saree available at the top Katan silk sarees suppliers:
• The beautiful Katan silk sarees are available in bold colours, motifs, patterns, and designs.
• Their range of Kaftan silk sarees varies between trending and modern ones to traditionally simple ones.
• The Katan silk sarees offered by leading suppliers are created by twisting the silk filaments together.
• Katan silk is woven with durable and sturdier fabric. This is the reason leading it to retain its shape, texture, and designs even after years of wearing.
• The look of the Katan silk sarees from top suppliers epitomizes royalty.
• Woven with authentic silk threads, it can be worn at any time of the year.
• It is a lightweight fabric which is making it easy-to-drape and flaunts even during the summers.
• The Katan silk sarees are skin-friendly and can be worn throughout the day without any discomfort.
What is Katan fabric?
Katan is a plain-woven fabric made up of some pure silk threads. It consists of two threads twisted together and is mostly used by the warp of light fabrics. Its yarn is made by twisting various silk filaments that make it very strong and durable. It is costly because it is handwoven using both pure silk weft and warp. The fabric is very fine, soft and lustrous.
Origin of Katan Silk
Katan Silk Saree is found in Persia from ancient times of Mughal, and the women of royal families used to wear the Katan silk sarees because of their lustrous look. It has a royal appearance and sturdy in nature.
Varieties of weaves on Katan silk sarees:
Some of the weaves used to create katan silk sarees are:
jamdani- this weave uses very light and translucent fabric with patterns in a thicker thread effect.
jangla- this technique includes very thick and intricate weaving with floral and bird motifs representing a jungle.
tanchoi- warp-faced, satin based fabric and always woven using extra silk wefts ornamentation on a silk ground.
Kinkhab- the special feature is the profuse use of gold and silver thread that the silk background is hardly visible.
Katan silk designs offered by Katan Silk Sarees Supplier
The Katan silk sarees that the leading Katan silk sarees suppliers offer are available in a variety of designs like floral ornamentation, Katan Karakul butti designs, meenakari designs, square designs, bindi designs, and jhumka designs.
How to buy Katan silk sarees?
Buy Katan silk sarees in various patterns designs and motifs online at some of the best katan silk saree suppliers. Some valuable features which make the suppliers stand out as unique from the crowd are :
• ethical business values
• reasonable pricing
• extensive range of sarees and design
• guarantee of purity of silk
• customized business solutions
• transparent business deals
• nationwide reach
• 100% customer satisfaction